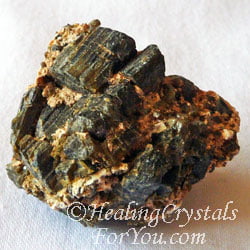 Epidote is a stone that is known to effect different people in different ways.
How you are affected by its energy, may to some degree depend on your predominant way of thinking, as it's vibration is known to bring you more of the same.
This aspect is said to benefit you, as the influx of traits brings them clearly to your awareness.
It is also known as Pistacite, and is said to be very helpful to aid prosperity, because as long as you are generous you will manifest more generosity and more prosperity.
This may aid you to experience a variety of good things in your life, in a diversity of different ways, including improved relationships.
why would you use it?
If you have been working on your spiritual growth, this stone has a beneficial metaphysical properties and a strong vibration to aid you to attune to spirit.
This stone will enhance your awareness of various aspects of yourself, and it may be very helpful if you unknowingly have been resistant to letting go of some attitude that you need to change, for your highest good.
Epidote has within it an energy that aids you to have the courage to let go of the things that are holding you back from living the life of your dreams.
As you begin to embrace the boldness of spirit that Epidote brings to you, this will help you to have a greater knowledge of who you really are and your spiritual purpose.
This stone is a catalyst for change, and once you have clarified your ideals, it will aid you to manifest your dreams into reality.
This stone helps you to learn that if you raise your vibration, you can be enabled to completely change your reality via the action of your thoughts and actions.